!*** Beginning of Page ***>


Last updated 17-Aug, 2009
Other pages' dates listed below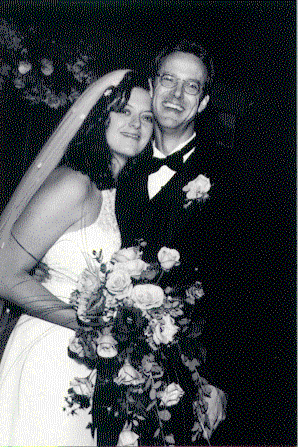 We were married on September 18, 1999.
---
---
<! *** Linking to Hawaii trip page ***> <! *****************Links to our other pages ********************>
Evan
Updated 27-Nov-03.
Pregnancy
Updated 22-Jan-02.
Wedding


  

<! ** PRE is for empty blank line **> <! - keeps "Wedding" from dropping>
---
---
<! *** Things We Do for Fun ***>
Things We Do for Fun

We teach the Pleasant Hill Recreation Dept's. rappelling class. The link will take you to a page with pictures of us rappelling. E-mail us if you live local and are interested.



Steve flies whenever he can, (and Christine goes along). Most recently in the Grob 155-C Acro, the Pitts S-2B and the Grumman Yankee. Another favorite aircraft of mine is the Glasair 2. Click here to see Christine and I by the Grob, me after my Pitts flight, and 2 Glasairs in formation.



We read. My favorite authors include: Isaac Asimov, Orson Scott Card, Arthur C. Clarke, and Larry Niven. I enjoyed "Spin" by Robert Charles Wilson.

<! *** Useful Links ***>
Useful Links

Not so useful (but interesting) links:
Comments on the page? Feel like dropping us a line? Send e-mail to Steve or Christine.